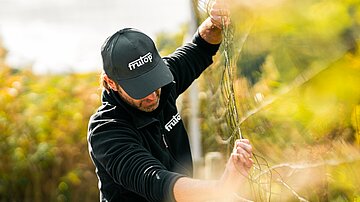 Comprehensive service
Our protection comes directly to you.
From initial planning all the way up to professional implementation. We are your partner of choice for all project phases.
We have been active in the field of fruit orchards and fish farms for many decades. In recent years, we have also specialized in the area of car parks.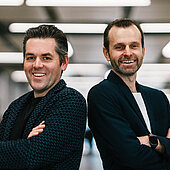 We would be delighted to provide you with personal consulting.
Emanuel Tamanini & Michael Gasser
Founders and executive managers
"Not only am I happy with the results, my customers are too."
Executive manager "Neuss GmbH" (Immenstadt, Germany)
"If only I had worked with frutop from the beginning, I would have saved myself a lot of time, money and nerves."
"TW Alhorn" (Emstek, Germany)
"I was involved throughout planning and implementation process. Great service!"
"Kundelfingerhof" (Schlatt, Switzerland)
"The best investment that I've made in a long time."
Operations Manager "Manincor" (South Tyrol)
"Now I know what it's like to be calm during a thunderstorm."
Entrepreneur (Reutte, Austria)
"The weather is getting more and more unpredictable. That's why I'm very happy that my cars are well protected."
Executive manager "Autohaus Fink" (Kempten, Immenstadt, Oberstdorf, Germany)
"Thanks to the personal support I was able to find an individual solution for my cherry trees."
Agriculturist (Uhwiesen, Switzerland)
"I can call up frutop any time I need to – in case a special issue arises later on."
Agriculturist (Scharten, Austria)
"I am only making this investment once. I want everything to be perfect."
Entrepreneur (Satteins, Austria)
Our projects
Here is a selection of our protection systems.